my blog
Posts for: June, 2019
By Kevin J Kean DDS
June 20, 2019
Each year, the National Safety Council recognizes June as National Safety Month. It's the perfect time to focus on safety: With summer temperatures heating up, so do sports and outdoor activities—and, unfortunately, the risk of accidents. As the old Boy Scout motto goes, everyone should "be prepared." And while that means watching out for sunburn, poison ivy or traveling hazards, it also means being alert for potential tooth injuries.
Even during casual recreational sports, an unintentional hit to the face or jaw could chip, move or, worse yet, knock a tooth out completely. As with any other aspect of safety, prevention should be at the top of your list when it comes to dental injuries. In that regard, anyone involved in a contact sport or other high-risk activity should wear a mouthguard. This device absorbs much of the force generated during a hard impact to the face or jaw that might otherwise affect the teeth.
Mouthguards fall into two basic categories. The first are retail guards available at sporting goods stores and many pharmacies, most commonly "boil and bite" guards. They're so named because a wearer first softens them with very hot water and then bites down on them to personalize their fit. Once cooled, the mouthguard will maintain its shape. While reducing the severity of impact injuries, these retail mouthguards can be bulky and uncomfortable to wear.
The second category, a custom mouthguard created by a dentist, offers a sleeker, more comfortable fit. These guards are based on a direct impression of the wearer's mouth that we take at the dental office. Although any mouthguard is better than no mouthguard, a 2018 study confirmed that custom-made mouthguards from the dental office perform better than the kind bought in a drug store or sporting goods store.
Summer is prime time for creating cherished family memories. With a little dental injury prevention knowledge, you can help make sure those summer memories are happy ones. If you would like more information about dental injury prevention and treatment, please contact us or schedule an appointment for a consultation. To learn more, read the Dear Doctor magazine articles "Athletic Mouthguards" and "Dental Injuries: Field-Side Pocket Guide."
By Kevin J Kean DDS
June 10, 2019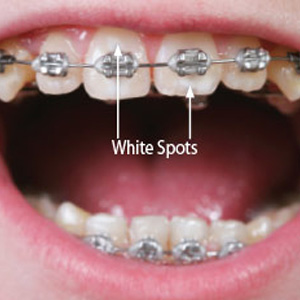 While wearing braces is the path to a healthier and more attractive smile, it can be a difficult journey. One of your biggest challenges will be keeping your teeth clean to avoid a higher risk of tooth decay.
Tooth decay starts with dental plaque, a thin film of bacteria and food particles that accumulates on teeth. Daily brushing and flossing clear this accumulation. But the hardware of braces makes it difficult to access all tooth surfaces, and can even become a haven for plaque.
One sign in particular of tooth decay while wearing braces is the appearance of chalk-like spots on the teeth known as white spot lesions (WSLs). WSLs occur because the minerals in the enamel beneath them have begun to break down in response to decay. The spots can eventually cause both structural and cosmetic problems for a tooth.
The best approach to WSLs is to prevent them from developing in the first place. You'll need to be extra vigilant with daily oral hygiene while wearing braces to reduce plaque buildup. To help with the increased difficulty you might consider using a special toothbrush designed to maneuver more closely around orthodontic hardware. You may also find using a water flosser to be a lot easier than flossing thread.
Preventing tooth decay and WSLs also includes what you eat or drink to reduce the effects of enamel de-mineralization. The bacteria that cause decay thrive on sugar, so limit your intake of sweetened foods and beverages. And to avoid excessive demineralization cut back on acidic foods as well.
If despite your best preventive efforts WSLs still form, we can take steps to minimize any damage. For one, we can give your enamel a boost with fluoride applications or other remineralization substances. We can also inject a tooth-colored resin beneath the surface of a WSL that will make it less noticeable.
With any of these and other treatments, though, the sooner we can treat the WSL the better the outcome. Practicing good hygiene and dietary habits, as well as keeping an eye out for any WSL formations, will do the most to protect your new and improved smile.
If you would like more information on preventing dental disease while wearing braces, please contact us or schedule an appointment for a consultation. You can also learn more about this topic by reading the Dear Doctor magazine article "White Spots on Teeth During Orthodontic Treatment."