my blog
Posts for tag: dental implants
By Kevin J Kean DDS
June 19, 2021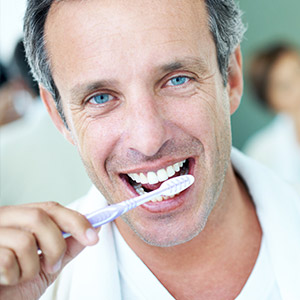 Your teeth can take decades of daily biting and chewing and not miss a beat. But they do have a nemesis, dental disease, which can easily get the upper hand. As a result, millions of people lose teeth each year to tooth decay and periodontal (gum) disease.
But while both the living tissue that makes up teeth and gums are susceptible to bacterial attack, the non-living materials in a life-like dental implant are impervious to disease. That being the case, you would think your implants wouldn't need as much hygiene as your other teeth.
But they still do. True, implants in themselves aren't affected by infection, but the bone and other tissues that support them can become diseased. This often happens with advanced cases of gum disease.
There is, in fact, a particular form of gum infection associated with implants called peri-implantitis ("peri"—around; "it is"—inflammation), which occurs in the gums around an implant. Once it starts, peri-implantitis can advance at a rapid pace.
This is because implants don't have the gum attachment of real teeth, which can fight and slow the advance of a gum infection. Because an implant doesn't have this attachment, any infection around it continues virtually unimpeded. If the bone supporting an implant becomes infected, it can weaken to the point that the implant fails.
But this dire scenario can be avoided with continuing hygiene and maintenance of the gum tissues surrounding the implant. You should brush and floss every day around implants to remove dental plaque, the bacterial film most responsible for dental disease, just as you do with natural teeth.
It's also important to keep up regular dental visits for cleanings to remove lingering plaque and tartar (hardened plaque). Your dentist may also notice and clean away any residual cement from the restoration, which can also cause gum inflammation.
And, you should promptly see your dentist if you notice any telltale signs of a gum infection, such as swelling, redness or bleeding, especially around implants. The quicker we diagnose and treat a case of gum disease, particularly peri-implantitis, the less likely it will endanger your implant.
If you would like more information on maintaining dental implant restorations, please contact us or schedule an appointment for a consultation.
By Kevin J Kean DDS
August 29, 2019
Generations have depended on dentures to effectively and affordably replace lost teeth. But they do have a major weakness: They contribute to jawbone loss that creates not only mouth and facial problems, but can also ruin a denture's fit.
Bone loss is a normal consequence of losing teeth. The biting forces normally generated when we chew stimulate new bone to replace older bone. When a tooth is missing, however, so is that chewing stimulation. This can slow bone replacement growth and gradually decrease the density and volume of affected bone.
While dentures can restore dental appearance and function, they can't restore this growth stimulation. What's worse, the pressure of the dentures against the gum-covered jaw ridge they rest upon may irritate the underlying bone and accelerate loss.
But there is a solution to the problem of denture-related bone loss: an implant-supported denture. Rather than obtaining its major support from the gum ridges, this new type of denture is secured by strategically-placed implants that connect with it.
Besides the enhanced support they can provide to a denture restoration, implants can also deter bone loss. This is because of the special affinity bone cells have with an implant's imbedded titanium post. The gradual growth of bone on and around the implant surface not only boosts the implant's strength and durability, it can also improve bone health.
There are two types of implant-supported dentures. One is a removable appliance that connects with implants installed in the jaw (three or more for the upper jaw or as few as two in the lower). It may also be possible to retrofit existing dentures to connect with implants.
The other type is a fixed appliance a dentist permanently installs by screwing it into anywhere from four and six implants. The fixed implant-supported denture is closer to the feel of real teeth (you'll brush and floss normally), but it's usually more costly than the removable implant-supported denture.
While more expensive than traditional ones, implant-supported dentures still cost less than other restorations like individual implant tooth replacements. They may also help deter bone loss, which may lead to a longer lasting fit with the dentures. Visit your dentist for an evaluation of your dental condition to see if you're a good candidate for this advanced form of dental restoration.
If you would like more information on implant-supported dentures, please contact us or schedule an appointment for a consultation. You can also learn more about this topic by reading the Dear Doctor magazine article "Overdentures & Fixed Dentures."
By Kevin J Kean DDS
April 11, 2019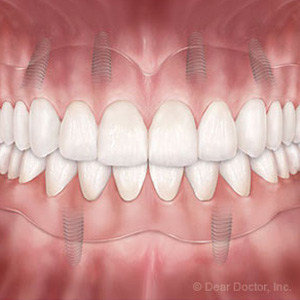 Even with modern prevention and treatment advances, losing teeth in later life is still a sad but common part of human experience. Just as generations have before, many today rely on dentures to regain their lost dental function and smile.
But although effective, dentures have their weaknesses. The most serious: they can't prevent jawbone deterioration, a common problem associated with tooth loss.
Bone health depends on chewing forces applied to the teeth to stimulate replacement growth for older bone cells. When teeth are gone, so is this stimulation. Dentures can't replicate the stimulus and may even accelerate bone loss because they can irritate the bone under the gums as they rest upon them for support.
But there's a recent advance in denture technology that may help slow or even stop potential bone loss. The advance incorporates implants with dentures to create two hybrid alternatives that may be more secure and healthier for the supporting bone.
The first is known as an overdenture, a removable appliance similar to a traditional denture. But instead of deriving its support from the gums alone, the overdenture attaches to three to four implants (or only two, if on the lower jaw) that have been permanently set into the jawbone. This not only increases stability, but the implants made of bone-friendly titanium attract and foster increased bone growth around them. This can help slow or even stop the cycle of bone loss with missing teeth.
The second type is a fixed denture. In this version, four to six implants are implanted around the jaw arch. The denture is then secured in place to these implants with screws. It's a little more secure than the overdenture, but it's also more expensive and requires good quality bone at the implant sites.
If you've already experienced significant bone loss you may first need bone grafting to build up the implant sites for these options, or choose traditional dentures instead. But if you're a good candidate for an implant-supported denture, you may find it provides better support and less risk of continuing bone loss than traditional dentures.
If you would like more information on implant-supported dental restorations, please contact us or schedule an appointment for a consultation. You can also learn more about this topic by reading the Dear Doctor magazine article "Overdentures & Fixed Dentures."