my blog
Posts for tag: retainers
By Kevin J Kean DDS
October 22, 2020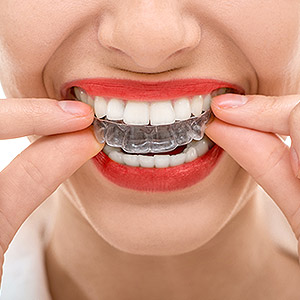 You can't correct a poor bite with braces or clear aligners overnight: Even the most cut-and-dried case can still require a few years to move teeth where they should be. It's a welcome relief, then, when you're finally done with braces or aligner trays.
That doesn't mean, however, that you're finished with orthodontic treatment. You now move into the next phase—protecting your new smile that took so much to gain. At least for a couple of more years you'll need to regularly wear an orthodontic retainer.
The name of this custom-made device explains its purpose: to keep or "retain" your teeth in their new, modified positions. This is necessary because the same mechanism that allows us to move teeth in the first place can work in reverse.
That mechanism centers around a tough but elastic tissue called the periodontal ligament. Although it primarily holds teeth in place, the ligament also allows for tiny, gradual tooth movement in response to mouth changes. Braces or aligner trays take advantage of this ability by exerting pressure on the teeth in the direction of intended movement. The periodontal ligament and nature do the rest.
But once we relieve the pressure when we remove the braces or aligners, a kind of "muscle memory" in the ligament can come into play, causing the teeth to move back to where they originally were. If we don't inhibit this reaction, all the time and effort put into orthodontic treatment can be lost.
Retainers, either the removable type or one fixed in place behind the teeth, gently "push" or "pull" against the teeth (depending on which type) just enough to halt any reversing movement. Initially, a patient will need to wear their retainer around the clock. After a while, wear time can be reduced to just a few hours a day, usually during sleep-time.
Most younger patients will only need to wear a retainer for a few years. Adults who undergo teeth-straightening later in life, however, may need to wear a retainer indefinitely. Even so, a few hours of wear every day is a small price to pay to protect your beautiful straightened smile.
If you would like more information on orthodontic retainers, please contact us or schedule an appointment for a consultation. You can also learn more about this topic by reading the Dear Doctor magazine article "The Importance of Orthodontic Retainers."
By Kevin J Kean DDS
August 23, 2020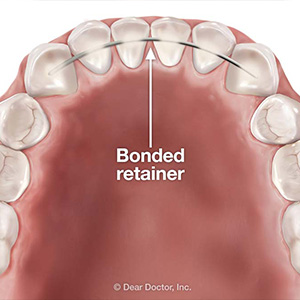 While retainers are often viewed as a nuisance, they're crucial to protect the gains made with bite correction. Without them, all of the progress achieved through braces or clear aligners could be lost.
Here's why: The same elastic gum tissue called the periodontal ligament that holds teeth in place also allows them to move incrementally in response to changes in the mouth. That's why we can move teeth with braces or aligners, which put pressure on the teeth toward a desired direction of movement while the periodontal ligament does the rest.
But the mechanics can also work in reverse: With pressure relieved when the braces are removed, the teeth could revert to their original positions through a kind of "muscle memory." The light pressure provided by a retainer is enough to keep or "retain" teeth in their new positions.
The best known retainer is a removable appliance. Initially, a patient wears it continuously and only takes it out during oral hygiene. Wear duration may later be reduced to night time only and eventually not at all, depending on a patient's individual needs.
While effective, removable retainers do have some downsides. Like braces, they're visible to others. And because they're removable, they're frequently misplaced or lost, leading to the added expense of a new one.
An alternative is a bonded retainer, a thin piece of wire attached to the back of the newly moved teeth to keep them in place. Because it's behind the teeth it's not visible—and there's no misplacing it because only a dentist can take it out.
A bonded retainer is a good option, especially if a patient is immature and not as diligent about wearing or keeping up with their appliance. But it can make flossing difficult to perform, and if they're removed or broken prematurely, the teeth could revert to their former positions.
If you decide to go with a bonded retainer, be sure you get some tips from your dental hygienist on how to floss with it. And if you decide later to have it removed early, be sure to replace it with a removable retainer. Either of these two options can help you keep your new and improved smile.
If you would like more information on bonded retainers, please contact us or schedule an appointment for a consultation. You can also learn more about this topic by reading the Dear Doctor magazine article "Bonded Retainers."