my blog
Posts for tag: root canal treatment
By Kevin J Kean DDS
September 08, 2019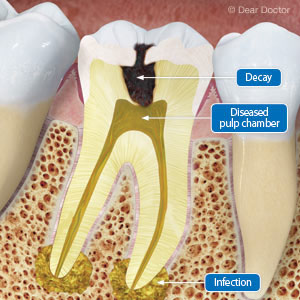 Root canal treatments have suffered a bad rap over the years—and undeservedly. While we applaud root canal therapy for the millions of decayed teeth the procedure has saved, the worn-out cliché that it's painful still lingers on.
So, let's set the record straight: a root canal treatment doesn't cause pain, it most often relieves it. Let's look a little closer at what actually happens before, during and after this tooth-saving treatment.
Before: a tooth in crisis. Tooth decay can damage more than a tooth's outer enamel. This aggressive bacterial infection can work its way into a tooth's interior, destroying the nerves and blood vessels in the pulp, before moving on to the roots and supporting bone through the root canals. Untreated, this devastating process can lead to tooth loss. A root canal treatment, however, can stop the invading decay and save the tooth.
During: stopping the disease. The dentist first numbs the tooth and surrounding gum tissues with local anesthetic—the only thing you might normally feel during treatment is a slight pressure. They then drill into the tooth to access the inner pulp and root canals and remove all diseased tissue. Once the interior spaces of the tooth have been disinfected, the dentist then fills the empty pulp chamber and root canals with a pliable filling called gutta percha to prevent future infection.
After: preventing re-infection. With the filling complete, the dentist then seals the access hole. There may be some minor soreness for a few days, similar to the aftermath of a routine filling, which can usually be managed with over-the-counter pain relievers like ibuprofen. Sometime later, the dentist will normally finish the treatment with a new crown on the tooth. This accomplishes two things: It helps strengthen the tooth against stress fracturing and it provides another layer of protection against future decay.
Root canal treatments have an exceptional track record for giving diseased teeth a second chance. There's nothing to fear—and everything to gain for your troubled tooth.
If you would like more information on root canal treatment, please contact us or schedule an appointment for a consultation. You can also learn more about this topic by reading the Dear Doctor magazine article "Root Canal Treatment: What You Need to Know."
By Kevin J Kean DDS
May 21, 2019
May is National Save Your Tooth Month, and tooth decay is a leading cause of lost teeth. It all begins with oral bacteria growing rapidly in built-up deposits of dental plaque, and in turn producing high levels of acid. At these levels, acid can erode the minerals in tooth enamel to create holes ("cavities") that allow bacteria to enter the tooth and infect it.
If at all possible, we need to try to stop tooth decay early by disinfecting and filling these cavities. If not, decay can spread through the teeth to the underlying nerve (pulp) tissue, following passageways known as root canals. If this happens, the chances for saving the tooth are extremely low.
But if the decay does reach the tooth's innermost layer—the pulp—filling the cavities won't be enough. Decay this advanced requires a procedure known as root canal therapy, or a root canal for short.
If you winced a little, it's understandable: Root canals have gained an unfair reputation as an unpleasant experience. In reality, a root canal performed by a skilled dentist or endodontist (a specialist in root canals) isn't painful. In fact, if you come in with a painful tooth, you're very likely to leave after the procedure without any pain.
Root canal procedures can vary depending on the type of tooth and the intricacy of its root canal network. Essentially, though, we remove the diseased pulp tissue, and then clean and fill the empty pulp chamber and root canals. This stops the infection and, along with sealing and crowning the tooth, helps prevent a future re-infection.
How do you know if you need a root canal? You may find out from us if we discover advanced decay during a checkup or cleaning appointment. But you may encounter signs yourself like a throbbing toothache, pain during and after eating and drinking, or gum tenderness around a tooth. These are all possible indications of tooth decay.
If you experience any of these signs, you should see us as soon as possible for an examination. And don't cancel your appointment if the pain goes away—this could simply mean the nerves in the pulp have died and are no longer transmitting pain signals. The infection, though, could still be there and continuing its rampage beyond the tooth and into the surrounding bone tissue.
Root canal therapy may not seem glamorous, but it's an excellent option for a diseased tooth that would otherwise have to be removed. A root canal could get rid of your pain and give your troubled tooth a new lease on life!
If you would like more information about treating advanced tooth decay, please contact us or schedule an appointment for a consultation. To learn more, read the Dear Doctor magazine articles "Common Concerns About Root Canal Treatment" and "Root Canal Treatment: What You Need to Know."